Sloan Machinery Introduced a wide range Alpine Tractors and machinery to Ireland 15 years ago and have built up a wide knowledge base of customers needs all over the island. Alpine Tractors are now being used for light forestry & farm use in place of ATV'S as they are more rugged & much cheaper to maintain,com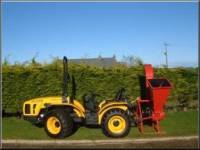 bined with massive fuel saving
With many farmers diversifying into groundcare, fencing, forestry, etc., these rugged European built tractors are the most versatile on the market with their all terrain ability, low centre of gravity and outstanding permanent 4 wheel drive traction which enables them to operate anywhere from an orchard to a 55 degree forest track.
The smaller machines are quickly replacing the quad bikes, as they will cover the same terrain yet with PTO, hydraulics & 3 point linkage can be used with standard agricultural machinery such as yard scraper, bale spike or can distribute fertilisers, especially with their weight of approx.1 ton giving a very low ground pressure,yet up to 90 hp being able to power feed wagons.
As these tractors originated in the fruit growing areas of the Alps they are ideally suited to orchard work. With fold down roll bars they can compact to height of 1.1 mtrs by 1 mtr wide depending on tyres. They are fully EEC approved for safety in the orchard without modification.
A full range of orchard flail mowers and sprayery is also available. There is also the big a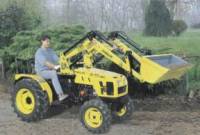 dvantage of low running costs of approx.50p per hour red diesel for the AGT 35hp Alpine tractor as compared to up to £5 per hour petrol for a big quad bike. The Alpine tractors are fully road legal and are insurable as a standard agri tractor. The NFU are presently charging a 50% loading and £500 excess on quads. Trust the canny Scots to save money!
The range of AGT tractors include articulated and front steer 4WD and are fitted 35hp with water cooled Lombardini diesel engines. There is also a hydrostatic front or reverse drive machine ideal for horticulture or ground care applications.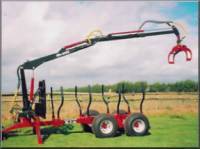 There is also the Pasqualli range from 26 to 91 hp articulated, front steer or bi-directional. With a total 26 different combinations we should be able to tailor a tractor for your needs. Fully air conditioned safety cabs are available. Attachments include front/rear loaders, forestry trailers/grabs, winches flails,cultivators, plough, hedgecutters, orchard/agri sprayers saw benches log splitters, chippers etc.
We supply a wide range or 2 wheel tractors from 3.5hp petrol to 11hp diesel electric start & a range of 60 attachments from sickle bars rotavators to ride on tipping trailers. Again a truly versatile machine for the landscape gardener or smallholder. Whilst these machines are ruggedly b
uilt should you require service or repair we can assure you of first class after sales service. With 40 years experience with machinery and in the unlikely failure of a major component we have a special arrangement with the factory to airfreight parts direct by TNT.
If you are contemplating the purchase of any new tractors or machinery or thinking of diversifying we will be pleased to discuss your requirements or visit http://www.pasqualiagri.it/
Phone 028 70848149 mobile 07974917949 or email: info@sloanmachinery.co.uk